Osananajimi ga Zettai ni Makenai Love Comedy (幼なじみが絶対に負けないラブコメ, A Romantic Comedy Where the Childhood Friend Absolutely Will Not Lose), abbreviated as OsaMake (おさまけ), is the manga adaptation of the romantic comedy light novel series of the same name written by Shuuichi Nimaru and illustrated by Ryou Itou. Since November 2019, it has been serialized in Media Factory's seinen manga magazine Monthly Comic Alive. An anime television series adaptation by Doga Kobo is scheduled to air in 2021. 
 Synopsis
Sueharu Maru's childhood friend Kuroha Shida seems to have feelings for him. She lives next door, and is small and cute. With an outgoing character, she's the caring Onee-san type, this being one of her greatest strengths.
But, Sueharu already have his first love, the beautiful idol of his school, and the award-winning author, Shirokusa Kachi! Thinking about it rationally, he thinks, he should have no chances with her, but, while walking home from school, she only talks with him, with a smile even! He might actually have a chance!
Or so he thought, but then he heard that Shirokusa already has a boyfriend, and then his life took a turn for the worse. He want to die. He thinks why is it not me?! Even though she was his first love... As he'd was drowning in despair and depression, Kuroha whispered.
—If it's that tough for you, then how about we get revenge? The best revenge ever, that is~
Characters
Main
Supporting
Volumes
See: Manga Volumes
Promotion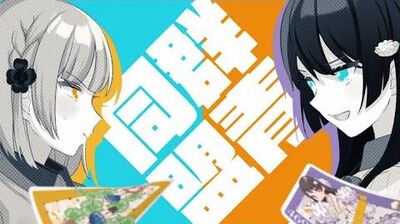 Community content is available under
CC-BY-SA
unless otherwise noted.